Finally they are here!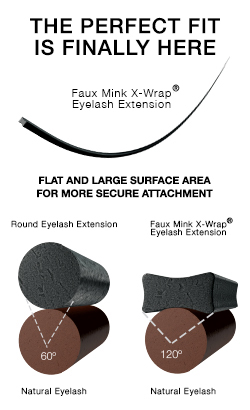 The ultimate breakthrough in flat lashes! Achieve a voluminous, lash doubling look with Faux Mink X-Wrap™ eyelash extensions. These unique lashes make a dramatic statement from their full, dark base to their precise, tapered tips. The Faux Mink X-Wrap lash's superior interlocking "X" shape guides the extension to wrap around the natural lash, locking it into place. This unique "X" shape also allows for strong lash attachment from any direction (top, bottom, or either side), giving more application flexibility than other flat lash shapes. The flat, wide base fills and corrects the appearance of gaps between natural eyelashes, giving an eyeliner effect along the lash line. Faux Mink X-Wrap lashes have a rich matte finish that mimics the sheen of natural lashes for a seamless integration.
The superior interlocking "X" shape of the Faux Mink X-Wrap™ lash wraps and locks onto the natural lash resulting in tighter bonds, superior attachment, and longer-lasting lashes.